Only a few left in stock - order soon.
Hydrogen Water Ionizer Machine - Electric Hydrogen Rich Water Machine
Original price
$245.99
-
Original price
$245.99
In stock. Order in the next 1h 0m 0s and the product will be with you on Friday, 14 July
Easy 90 day return policy
Don't like it? No worries. We'll take it back for a full refund.
We assure you a secure checkout
Is Your Water Truly Safe?
In a world filled with uncertainties, one thing you shouldn't have to worry about is the water you drink. Have you ever wondered if your tap water is laden with chemicals, lurking bacteria, harmful parasites, or even the notorious fluoride?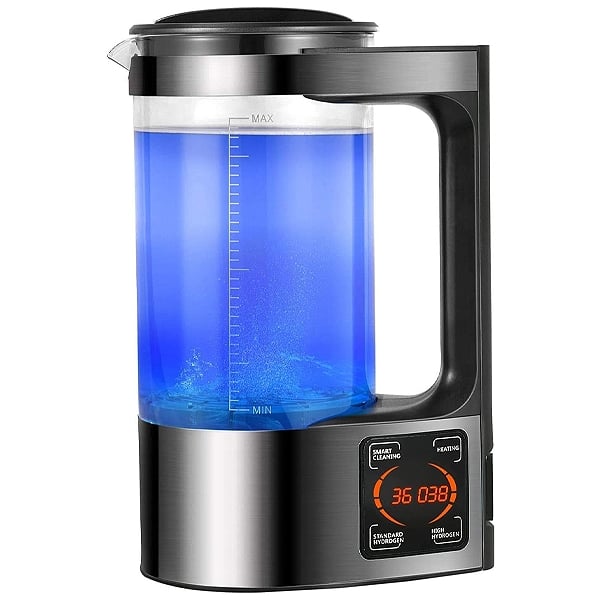 Purity Unleashed
Experience the power of hydrogen-rich water. This marvel of technology allows you to produce pure, clean, and undeniably healthy water for your entire family with unparalleled ease and speed. Hydrogen, a true friend to your body, works its magic by activating essential cells, boosting their performance, and even ushering in natural cell renewal. Your body will thank you as new cells grow faster, blood vessels become stronger, and bones grow sturdier.
Heavy Metals Begone
Bid farewell to impurities that cloud your drinking experience. This remarkable machine not only purifies your water but also expels heavy metals and other lurking contaminants. It's like having your personal water bodyguard, ensuring that you only consume the purest H2O.
Customized Hydration
One size doesn't fit all, and your hydration preferences shouldn't be any different. With multiple treatment settings, you have the flexibility to choose the duration that suits your needs, ranging from a quick 5-minute refresh to a thorough 60-minute rejuvenation. Plus, enjoy the added benefit of alkaline water with a pH level of 9, keeping you at the peak of wellness.